Activate Your Magick
Ritual Smoke Wands for Ceremony & Cleansing, Burning Blends for Cigarettes & Incense, Hand-Picked Spiritually Charged Crystals, Room Sprays, & More...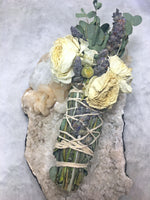 Floral Beauty Wands
Beauty wands are intended to ground and center via a smoke cleansing ritual, so you can feel better in your body and cleanse your space from unwanted energies. The Beauty Mage ritual smoke cleansing wands are made with alternative herbs to sage and palo santo, which are generally the most popular and most harvested herbs used for this purpose. As we attempt to be more sensitive to other cultures and reduce over-consumption, The Beauty Mage has created a more sustainable and conscious base featuring eucalyptus, rosemary, pine, cedar, and/or mugwort.  Added to those bases are a variety of other herbs and flowers meant to enhance different emotions and mental states. Burn these with clear intention and watch the energy within and throughout your space transcend and transform.
Beauty Wands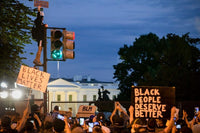 Sigils for Black Lives
Hand drawn and digitally rendered sigils designed with the protection of freedom fighters worldwide in mind.  These sigils are meant to be talismans for the safety of black and brown bodies.
Designed in multiple sizes and using several techniques, place these protective wards on your altar, desk, or keep on your person for added immunity.
All proceeds from the sales of Sigils for Black Lives will be donated to charities supporting anti-racist causes that uplift black and brown people throughout our known universe.
Sigils